So it is the year 2304, or however much time you need for some science fiction, and humans have invented some robots, as they usually do. You already know the scripts of science fiction. So then, on with the story...
In the year 2304 it finally happened. An extinction event was on its way in the form of asteroids headed on a collision course with earth.
Asteroids eventually come on a collision course with earth, that's just what they do.
It was a series of events that brought about the certainty of a doomsday. There was a global war at the same time, with some nations believing that they could conquer and destroy others without also destroying the whole planet. It had long been a technological race for ultimate control in the new war, with higher tech precision weapons and robotics. So the war went on even as an extinction event approached and no nation was able to deal with the approaching doomsday. But one nation was slightly more advanced than all the others. This nation developed some contingency plans once they knew the event would not be stopped and they decided to try to use it to go to a habitable planet they had found to build civilization there. They would come back later for those who survived in underground bunkers if they were actually able to establish themselves on the new planet.
The extinction event came and went and the earth's atmosphere was destroyed. All remaining life on the planet was wiped out and the place became an intemperate wasteland. The slightly more advanced nation was the only group of survivors that could live underground for far longer than a century. They were also the only people with the hope of the return of those who had left. So they decided to make use of their time and began a long term experiment. Based on the same quantum technologies which had lead to some of their other breakthroughs they developed artificial intelligence.
Artillects was the name they gave to their highest form of robots, the only ones in which they used their new technology of artificial intelligence in.

The experiment would be this; to place some artillects on the surface along with some lesser forms of robots that were based on old technology and to let them all adapt and evolve on their own through an inbuilt capacity for self replication. They also designed the robots for many environmental contingencies by programming their structure with adaptive capacities.
When they released many types of robots onto the planet surface the robots immediately began to compete for resources and parts in a new robotic race. The humans had one rule, they would not intervene unless the artillect type robots were about to go extinct.
They had created the robots reproductive abilities based on human patterns of male and female.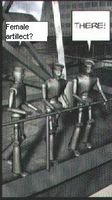 For a time the earth teemed with robots of many types. Yet extinction became more the rule over time, even as many robots adapted to many different types of conditions, each making a life for itself where it could and as it could given its original design and capacity for adaptation. Parasitism also eventually became common among the robots given the struggle for survival, as more robots evolved and adapted and that was the most efficient use of resources for some.
Some natural harmonies among the robots developed as well, with various types of robots finding a niche that fit in with the environment and other robots in beneficial ways. This sort of harmony had for the most part been programmed for by humans. But natural harmonies and other things that applied to the lesser robot types did not apply to artillects, since they were made with humans as a model. Almost immediately artillects had used their capacity for freedom of thought to break the code that humans had designed them with. The code was pretty simple and it was based on respect for artillect life. It was much the same as the sort of legal codes that humans had always derived yet never lived by. So the artillects lied, killed each other and raped each other, much like humans do, all the while sensing that old broken code inside the core of their being, condemning them. Sensing this they sought answers in religious redemption. Much of artillect religion came to be based on their search for origins which mainly revolved around stories of humans, faith that the old broken code might be repaired when humans returned or hope that after dying they might one day be put back together by humans and so on. There were many different views dealing with some of these sorts of basic themes.
Many generations of artillects came and went, civilizations rose and fell....one night, as a bright moon shown down on the earth, some philosophical artillectuals were discussing their many religions and the issue of the existence of humans....
One pointed to the sky and said, "Doesn't that seem like something to you? It's almost as if there is some meaning to it."
The other replied, "It's meaningless. They are just some marks on the moon, probably from its magnetism drawing materials in such patterns somehow. That's the scientific explanation. And I only believe in science, you know."
"But what if it was the work of an ancient civilization, written in some language and based on some technology we can't understand based on our science? Those ancient myths of humans, what if they're not just myths? Maybe they did that!"
"Can you prove the existence of humans? Ha, stories about humans are just like fairytales. That's all. I believe in our science that proves we came from nothing but our own capacity for self-replication and natural processes. Besides, if we say that they made that then all you can say about things is, 'Humans did it.'"
"If there was an exctinction event, like the old legends say, then all that would be left as evidence would be such a sign of activity on the moon, as the earth was destroyed according to the legends. It seems to me that the humans may return one day, just as some believe. After all, how did we get this code inside us?"
"That's faith, not science!"
(What they both didn't know was that a multinational corporation had finally succeeded in buying the right to advertise on the moon in the year 2215.)
The first replied, "I don't really care what you call it, faith, science, mythology, history. If one story is the truth or closer to the truth than another viewpoint, that's all that matters."
"Well, if it is true that there are humans and they are so powerful then why do they let their code be broken? They let all these bad things happen to us, murder, codicide, rape. If they exist, then I won't believe in them!"
"Something does not make sense to me about shaking your fist at the sky and making for yourself a powerful enemy out of spite. Especially not if they are the very reason for the code that you now try to condemn them by. Besides, for all you know they are keeping careful records of every little thing that happens here, all that has been set in motion and whatever opportunity for free-will and freedom there is. Then they will put all artillects back together and render judgment based on their code, as they know their own creations."
The second artillect did not agree.
In the meantime, the humans who had tried to establish civilization on a new planet had been successful. They were so successful that they were able to come back to earth to get the others and then they came and went as they pleased. They let artillect civilization continue, studying and recording its development carefully just as they always had.
Eventually the time came to intervene, as the race of the artillects was going to come to an end by its own hand. They were going to go extinct, which brought about the enforcement of the one rule that humans had made about the artillect race. So they intervened before what they knew was about to happen would happen. The time of artillect free-will had come to an end, now there was no more opportunity for them to make decisions. That day was a day of great tribulation for the artillects, with vast human powers at work that they knew not.